Shops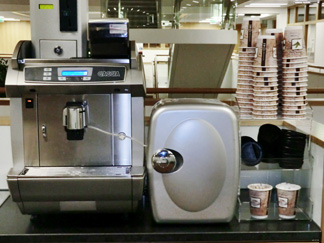 With more and more people buying take-away coffee these days, the expectations for a high quality in that take-away cup are higher than ever too. There is no reason why you couldn't offer superb quality coffee in your take-away shop by choosing the right machine and coffee bean combination.
Together with our coffee partners Delta, we can help you to get the coffee solution you need for your shop.
Machine – Gaggia Concetto
Bean to cup automatic machine that provides café quality cappuccinos, lattes and more at the touch of a button. Ideal for forecourts where there may be 100 or more customers daily.
Coffee - Grand Espresso
A good coffee that would make common day moment that bit more special. This blend is 60% Arabica and 40% Robusta and it has a smooth body aroma and acidity, with elegant poise.
Other products
We can provide you with everything additional that revolves around coffee, from take-away cups, sugar sachets/sticks, biscuits, cinnamon sticks and much, much more.
Contact us to discuss the perfect combination for your takeaway coffee shop.