Our Suppliers

We have been drinking Delta coffee since 2000, ever since we first tasted it in a small café in a fishing village in the south of Spain. So it was just a matter of time before we got Delta for the Mr Cotton vans and subsequently got the Irish Distribution rights to Delta Café for Ireland, something we are so proud to have.
Delta Cafés has a pretty amazing story behind it. Started in 1961, the founder still manages the company that is now the leading coffee provider in Portugal and employs 2,500 employees. The range is constantly expanding and the ethos behind the company is hugely around social awareness and personal touch. On visiting the headquarters in Campo Maior, a tiny village in Portugal, you instantly feel part of the family.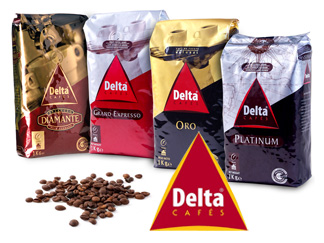 Our customers love the coffee, they rave about its smoothness and just recently we have started selling freshly ground coffee directly to our customers. The reaction has been seriously positive. We currently distribute 4 types of coffee beans:
Diamante
Platinum
Oro
Grand Expresso
Diamante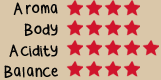 A coffee with full aroma, sweetness and good acidity that results from the natural selection of the finest Arabica and Robusta beans from South America and Africa. Its distinct roasting method results in a sweet tasting, smooth coffee, the perfect treat coffee.
Platinum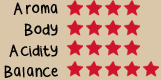 This well balanced blend with a strong aroma is the coffee drinker's coffee. It is 80% Arabica and 20% Robusta, which gives that extra "kick" for the perfect Americano.
Oro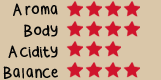 This is a very smooth and mild tasting coffee to suit most palates. Resulting from a rigorous selection and combination of the best sources of Arabica and Robusta coffee beans, this coffee has body and strength, excellent aroma and the mild flavour of ripe fruit.
Grand Expresso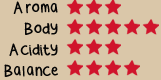 A good coffee for all situations. This blend is 60% Arabica and 40% Robusta. This bean has a smooth body aroma and acidity, with elegant balance.
We also have filter coffee & fine and coarse ground pre-packed coffee:
Ouro filter coffee sachets (80grms)
Chavena fine ground coffee (250grms)
Oro coarse ground coffee (250grms)
Delta isn't only about coffee either; they also do tea, Delta Q espresso capsule coffee machines (these are going to be big!), and a huge range of other coffee related items.
Check out the Delta Website to see all of their products. And give us a shout if there is something you would like to try out.